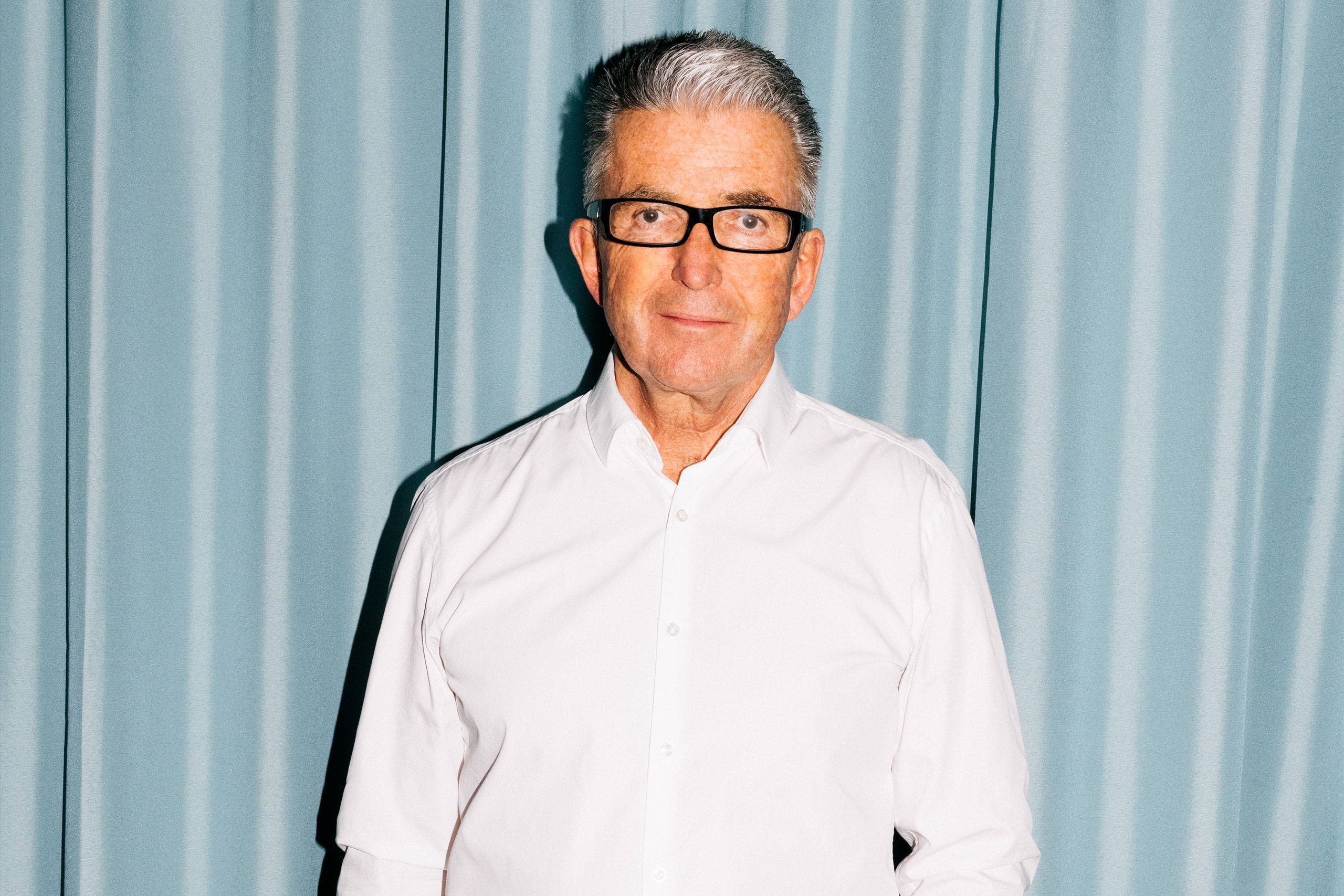 A PEEK INSIDE NYYUKIN WITH CO-FOUNDER JOHANNES HUNDT

"We never compromise on quality. Every detail sets a new standard in regards to quality, design and engineering. We would rather earn less than using cheap materials. You don't want to wear something on your skin that looks used after wearing it for a short while or that causes allergies due to an inferior material."
Tells us something about yourself.
My father used to own a watch and jewelry shop. The shop was just beneath our home, so me and my siblings were always in the middle of this exciting world of jewelry. But even though that was quite an unusual childhood, I was not initially into getting into the jewelry business myself. So when I finished school, I instead went to Munich to study art history.
The sudden death of my father brought me back home sooner than expected. I never really intended or wanted to take over my father's business. At that time we mainly sold high-quality antique jewelry from Art Deco and Art Nouveau. We also dealt with watch brands like Rolex or Chopard, which are obviously great brands, but I was always rather looking to do things my own way.
So after a while I decided to create my own high end jewelry and started designing my first pieces. And what can I say: I found my passion. From here on out, I was in a steady pursuit of creating unique pieces of jewelry. I was one of the first people in Europe creating pieces using 3D -design programs. Back then the software was hugely expensive and everything was so slow and complex. But it enabled me to translate my ideas into completely new forms of jewelry that people really haven't seen before. Even my colleagues in the jewelry market didn't think that this could be done.
Over the course of my career I have always wanted to reinterpret jewelry and adapt it to the constantly changing social conditions. Getting away from the same old same old. Combining new and usual materials to achieve this special look, this moment of excitement.
So, why Nyyukin?
Since I mainly work with solid gold and diamonds – combined with other materials – my pieces are more on the expensive side. But together with my friends and co-founders Vera and Philippe, who own a design agency, we would always sit at out favorite Italian place talking about art, design and movies over pizza. Over the course of many Gin Tonic infused evenings, the idea was born to create a more accessible jewelry brand and to bringing graphic design into the jewelry design, in order to create pieces that redefine how people see and know jewelry. So two years ago, the three of us founded Nyyukin together.
What is your guiding principle for Nyyukin?
Most of our resources really go into the perfect quality of our product: the best raw materials, the perfect fit, the perfectly refined surfaces.
Why steel and titanium rather than classic materials like gold or silver?
Gold and silver are rather soft, flexible materials. So while they are pretty and suitable for many types of jewelry, for our Characters – the core of our Nyyukins – we really needed something that is sturdy and durable. Not only to ensure the longevity of the pieces, but also to ensure the perfect fit of the Moments – the colorful pieces that go into the Characters. So we ended up using high quality steel and titanium. But what makes them so special? Both are very sturdy materials and their treatment –moulding, polishing, etc.–needs special tools and is extremely time-consuming, and therefore also very costly. That's the reason why many other brands pass on using stainless steel or titanium for jewelry.
By the way, what people aren't usually aware of: it is relatively easy to make jewelry out of silver or gold (or even cheaper materials like brass) because they're much easier to work with.
So why do you use those hard materials for your cuffs?
At Nyyukin we use stainless steel and titanium because they award you with outstanding stability and quality so that our Nyyukins are long lasting and feeling perfectly elegant. As I said: we spent a lot to achieve the perfect quality for our customers.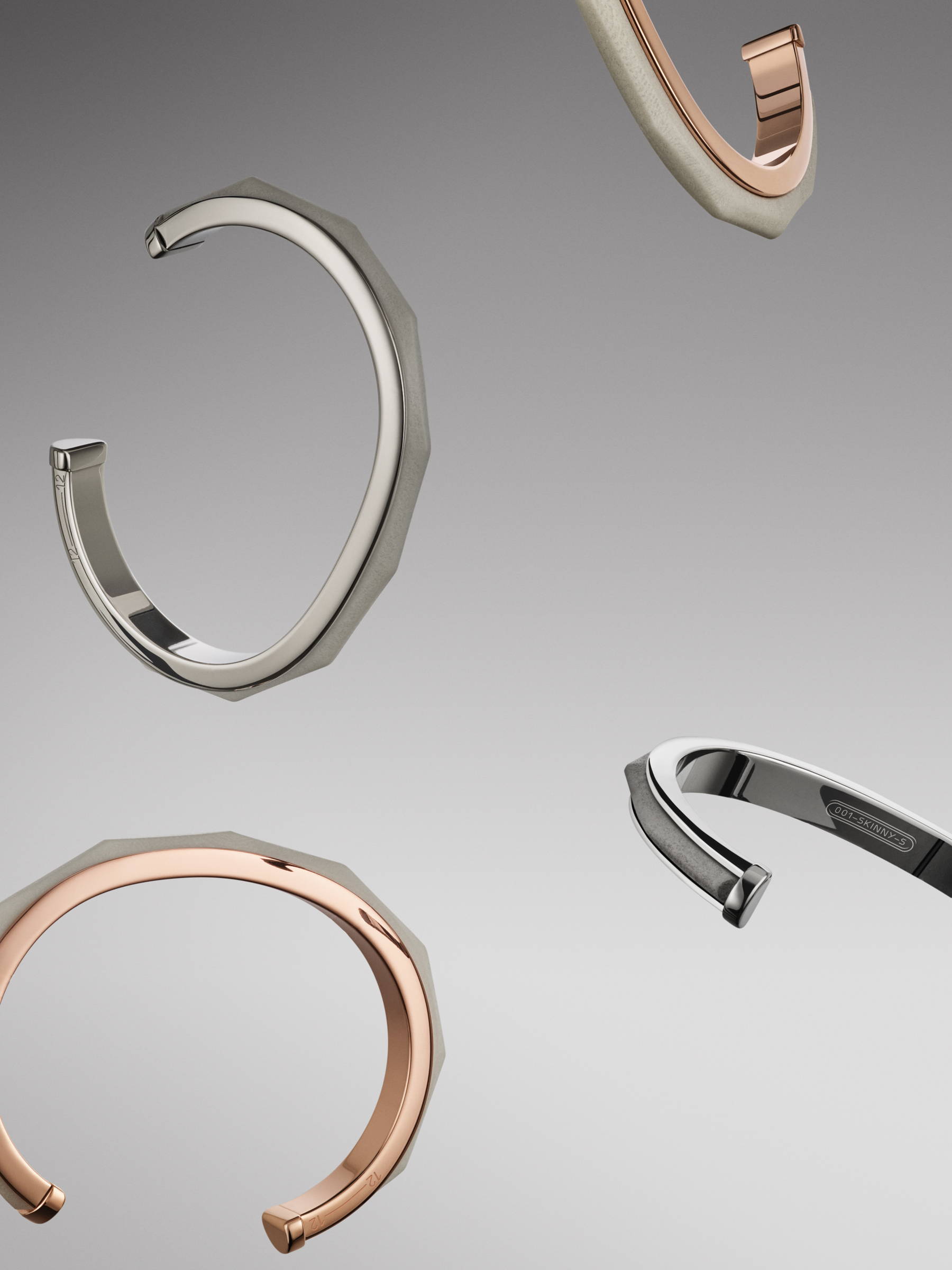 What happens with the raw bracelets after the first steps?
A lot of work goes into that part. All our Characters are being polished by hand. It takes a skilled craftsmen between 20 - 40 minutes per Character to achieve the perfectly matted or shiny surfaces that give our cuffs that special look and feel.
And what about the finishings?
After hand polishing every single character, we aim at getting the most elegant finishes and coatings possible.
For example our titanium rose gold Characters:
They are not only plated with a substantial layer of gold – more than you will find on most other jewelry – but underneath the visible surface we added two layers of so called PVD, which is a high tech coating, usually only found in other industries, that creates finishes so elegant, you will always want to wear them.
Or look at our DLC coatings:
The so called 'diamond like carbon' coating is also a high tech surface coating that you would otherwise only find on expensive watches and that creates amazing deep black surfaces.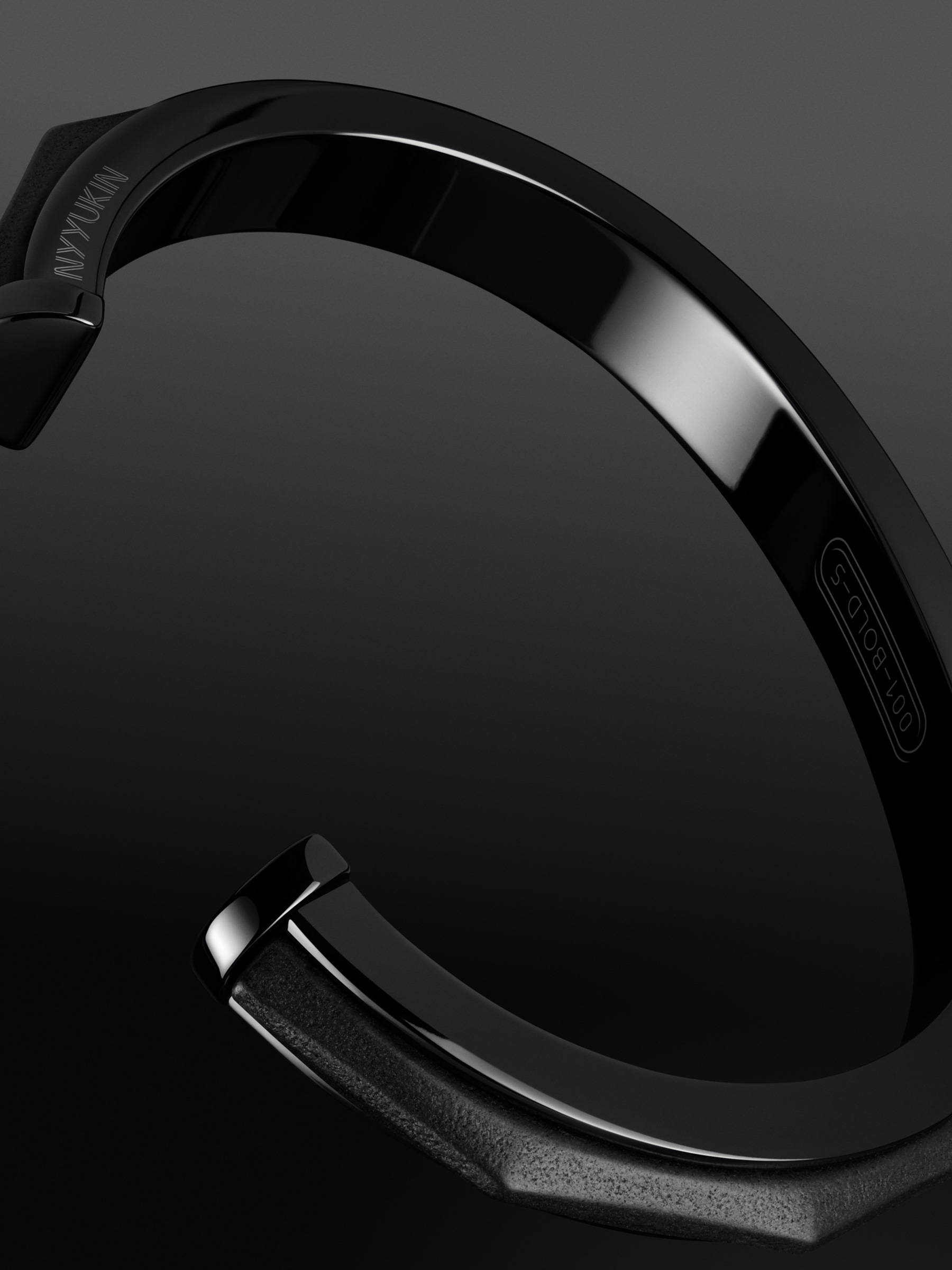 Thank you, Johannes, for your insights into your work.
Sure thing. And enjoy the moments with your Nyyukin.